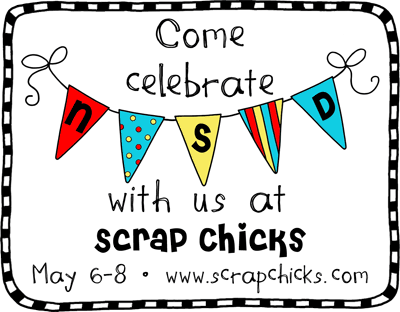 This last Saturday was National Scrapbook Day and over at
ScrapChicks
we had an all weekend long crop with a TON of challenges and awesome prizes up for grabs!
I was lucky enough to be at a crop all weekend long so I had a TON of time to scrap! I got 6 layouts done and 2 cards!! SO FUN!!
The Crop Challenge #1 - Add it Up was to create a layout in which you use the number of photo's you used in the layout for the title. I used 3 pictures so I used the title 1,2,3 Chug. Here is my layout ...
Challenge #2 - Derby Pie was to use the colors brown, tan, yellow & a splash of green. So I made this card for my Grandma for mother's day
Challenge #3 - Simply Grid It was to create a layout using a grid. Here is my layout ...
Challenge #4 - Summer Colors, the challenge was to use 3 of the 6 colors in a card or layout, here are the colors we had to choose from
Here is the card I made with it ...
Challenge #5 - Stretch a Sketch was to take either a 1 page sketch and turn it into a 2 page layout or take a 2 page layout and turn it into a 1 page sketch. I took this 1 page sketch from
SketchyThursday
and turned it into a 2 page layout, here is the sketch I used ...
and here is the 2 page layout I did with it ...
Challenge #7 - Learn Something New was to learn and do a new technique. Something that I'd never done before and have been VERY intimidated by and too scared to try was to mist. At the crop Monica (one of my scrap idol's) was there and convinced me to mist. She showed me how to do it and I DID IT!! I think she might even have created a monster! :) Here is my misted layout!!
Challenge #10 - Movie Poster Inspiration was to take a movie poster and use it for inspiration. This is the movie poster that I used for my inspiration ...
and here is the layout! I took inspiration from where the people were standing and used my photo's there and then did the journaling where the movie credits were. I loved this challenge!
Ignore the bad photo, the colors are WAY off, it's not orange they are supposed to be red. Here is my layout